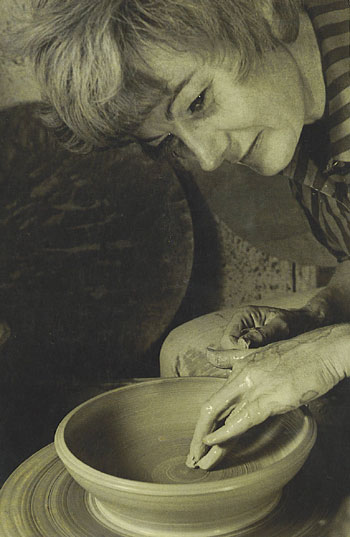 A native of Windsor, Ontario, Joan Thorburn has been a constant yet gentle force in the San Diego art community for 50 years.
As a teenager, she worked for the Ford Motor Company and studied fashion illustrating at night in Detroit, Michigan. While visiting an artist's studio in Detroit she saw a wheel-thrown pot and remembers thinking, "This is very exciting!" She met and married Robert "Gus" Thorburn and the couple moved to Ann Arbor where Gus studied architecture at the University of Michigan. The Ann Arbor Potter's Guild gave Joan an opportunity to develop her interest in clay, and it was here that she first met and studied with Rhoda Lopez, a well-respected Michigan potter and Cranbrook alumnus. "To me it was very exciting, because we would make our own clay. We would knead it – mix it all together and knead it – and then throw the pot. So you made the whole thing!" Joan recalls. 
In 1958, after 3 years in Ann Arbor, Gus and Joan moved to San Diego with another couple, Joe and Marlene Gerber. Joe was also an architect, and everyone packed up and drove cross-country together. Gas for the odyssey cost $24.00.
Arriving in San Diego, they first lived in a boarding house near Balboa Park and then in Mission Hills and Gus was employed by architect Lloyd Ruocco.
Before long, Joan got in touch with Rhoda Lopez, who had also moved to San Diego to join the faculty of the Art Center School in La Jolla. Again, Joan took classes with Rhoda, this time at the Art Center. The two potters became close friends and eventually traveled to Europe together.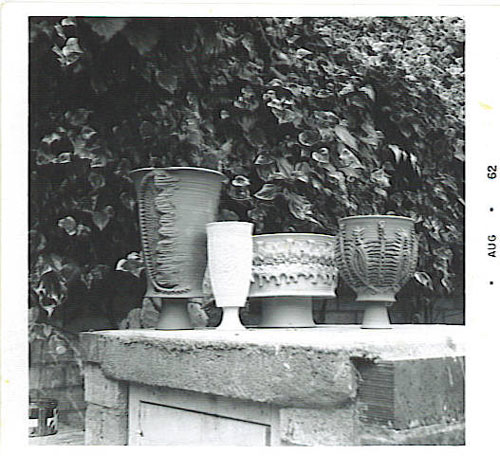 Dorothy Moore Scott and Kay Thomas shared a studio in the Spanish Village since 1958 that became the San Diego Potter's Guild. Joan joined the group shortly after the guild was organized and was told that in the beginning members sold candy to keep afloat, but not many pots. But by this time the guild was growing fast, with talented members like Betty Newkirk, Marvell Stickney, Jean Balmer, Lily Stoddard and Bill and Portia Bowne. New members were given a one-person show.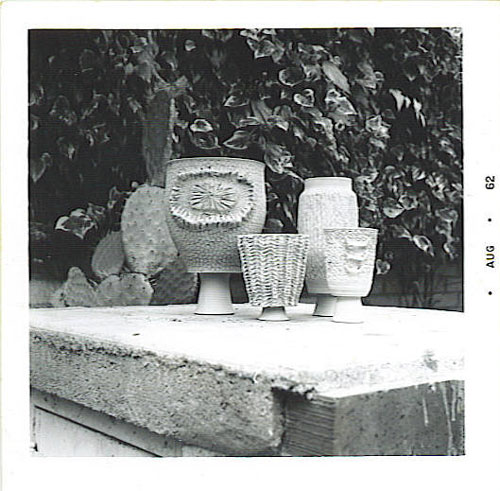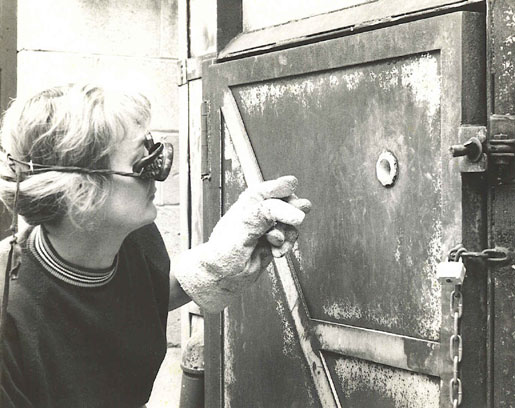 David Stewart helped the guild acquire and fire a gas kiln, which made it far more practical for potters to work on the premises, and Gus Thorburn remodeled the Potter's Guild studio shortly thereafter.  Later, Joan and long-term guild member Ted Saito were involved with community outreach efforts and classes held at the guild. Many of the Potter's Guild members, including Joan, were also in the San Diego Art Guild and exhibited at the San Diego Fine Arts Gallery.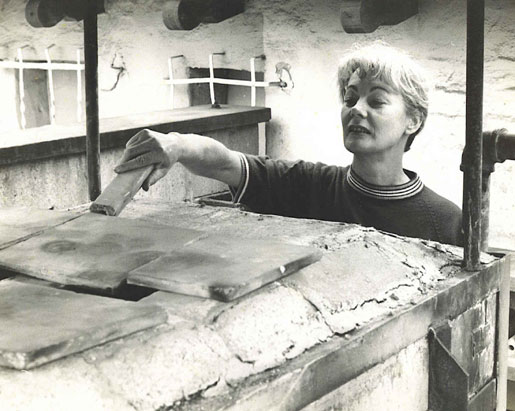 With the Guild for more than forty years, Joan has been active longer than any other member. "I really like the Potter's Guild," she says. "It's getting better every year."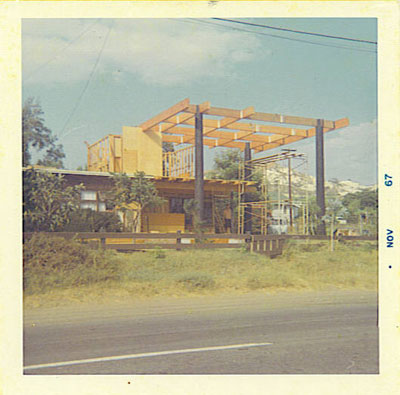 The Thorburns moved in 1961 to the Terrace neighborhood just south of Del Mar, where they and Rhoda Lopez purchased a home and some land together. Joan had ample space to throw pots and install a kiln next to an old garden shed which served as her pot shop. Here, Gus would eventually design and build the first of two homes in the Terrace. The first project was finally built in 1967, by that time the couple had two children, Sydney and Cameron, and had bought out Rhoda's share in the deal.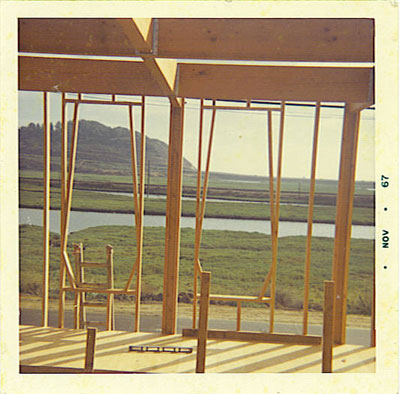 In the early 1960s Gus supervised construction of the Institute for Geophysics and Planetary Physics on the lower campus of U.C.S.D. for Lloyd Ruocco. He subsequently worked as an architect for U.C.S.D. and was involved with some of the most significant modern architecture in San Diego – built as the U.C.S.D. campus grew. 
Not long after their move north, Joan got together with other artists in the area and organized the "San Dieguito Craft Show," which was held at the Hotel Del Mar.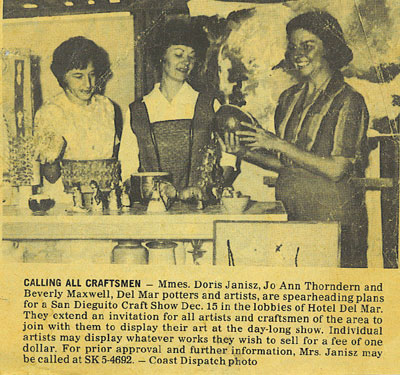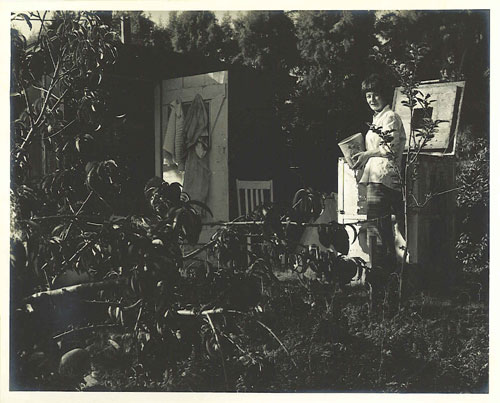 Another local group, which included Suzi Spector and Beverly Maxwell, met monthly to share each other's craft projects, and eventually held sales of their work. Joan was invited to participate in these sales, which took place at the home of printmaker Mary Ellen Long, the association's primary organizing force. By 1968 the event was growing in popularity and the task of putting on two sales per year had fallen to Joan. The group became known as the Carmel Valley Artists, and for over twenty years their shows took place on the Thorburn's scenic property alongside Carmel Valley Road at Via Borgia. In addition to Mary Ellen Long and Beverly Maxwell, other well-known early participants included glass artist Wally Blodgett and ceramist Flossie Cohen. After the property was sold, the event was held in La Jolla for a couple of years until Joan finally sold the business to its current owner, who has maintained the tradition for the last decade with sales held at the Karl Strauss Brewery Gardens in Sorrento Valley.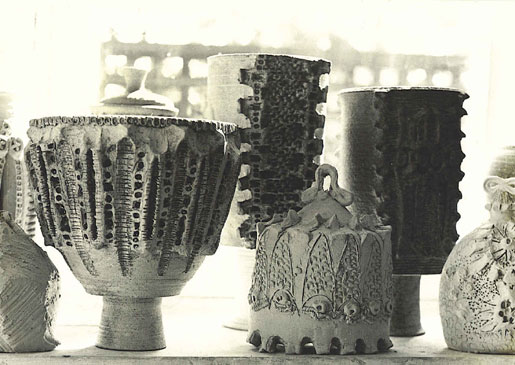 Joan has been associated with the La Jolla Art Center, the San Diego Art Guild, and more importantly the Potter's Guild, but it is her role in the development of the art and crafts scene in the coastal communities north of San Diego that is particularly unique. Together, Gus and Joan Thorburn were in the midst of an exciting arts and architecture scene that thrived from La Jolla to Leucadia, and included figures like Ruth and Toza Radakovich, Wenetta Childs, Herbert Turner, Val Sanders, Joe Gerber and Wayne and Barbara Chapman.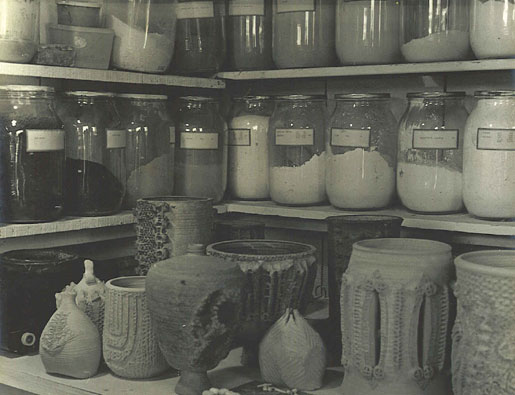 In the early 1960s, volunteers like the Thorburns and Suzi and Ira Spector contributed to the design and construction of the San Dieguito Unitarian Fellowship campus in Solana Beach. Several local artists were members of the Fellowship's Women's Group and put on exhibitions featuring work by Joan Thorburn, Wenetta Childs, Lily Stoddard, Mary Kay, Suzi Spector and Mary Ellen Long.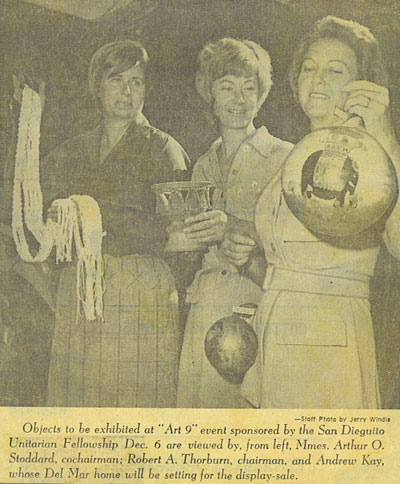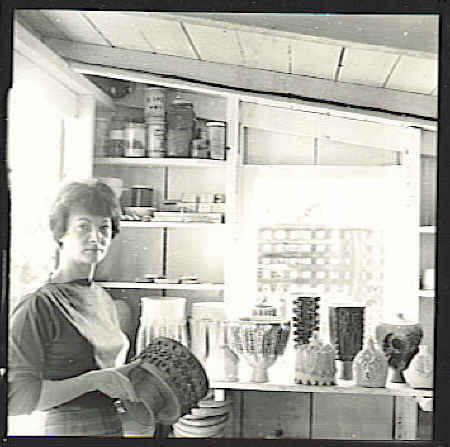 The rugged coastline around Torrey Pines and Del Mar has attracted and inspired all kinds of people, but in those days Del Mar was reputedly home to more architects than any other San Diego community. (The Gerbers too had settled nearby, and lived in a house Joe Gerber designed on Serpentine Dr.) In this environment, Joan helped bring artists together and cultivate an appreciation for the hand made object, a legacy embodied in the Potter's Guild and the Carmel Valley Artists.