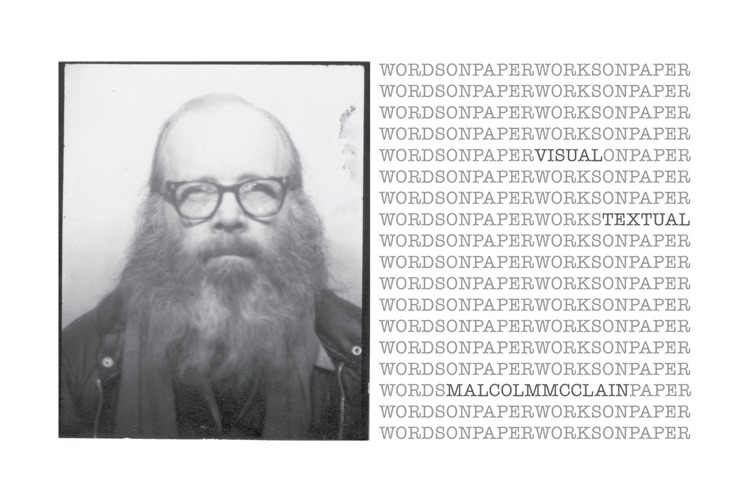 Dave Hampton and the family of Malcolm McClain present:
MALCOLM MCCLAIN: VISUAL, TEXTUAL
A weekend exhibition of works & words on paper from the notebooks of Malcolm McClain at Ronis Fine Art in Golden Hill.
Malcolm McClain (1923-2012), native son of Los Angeles, was an unpretentious intellectual who fought in the Battle of the Bulge, painted, drew and wrote poetry after WWII in Paris, New York and Mexico City. He also threw clay in Peter Voulkos's seminal class of first-generation Abstract Expressionist ceramicists at the Los Angeles County Art Institute. While living in Tijuana in the late 1950s, McClain began teaching at the Art Center in La Jolla (now MCASD) and later became a professor of sculpture and ceramics at Cal State Los Angeles, where he remained until his retirement as Dean of the School of Arts and Letters in 1988. A gruff, charismatic figure to his students, McClain was a lifelong anti-authoritarian, an attitude shaped by his combat experience and disdain for hypocrisy.
As part of an overall practice that included sculpture, painting, and ceramics, McClain was also devoted to writing and drawing. He filled intimate notebooks with typed texts, handwritten poems, clippings and commentary, along with curious collages, delicate watercolors, and bold, inky brushwork. Some of his texts may be appreciated for their strongly visual qualities, while at times his drawings rely on words to complete them. In both cases, we are reminded that writing and drawing are fundamentally the same.
MALCOLM MCCLAIN: VISUAL, TEXTUAL presents selections from this highly personal body of work, pages from the life of the artist, from the late 1940s through the late 1970s. In honor of McClain's life and work, the exhibition will also include the premiere of a work for voice and tape by Charles Curtis – a sound installation drawn from texts by McClain.
Saturday, November 8 and Sunday, November 9
10 am to 4pm
Ronis Fine Art
1946 Broadway, San Diego, CA 92102