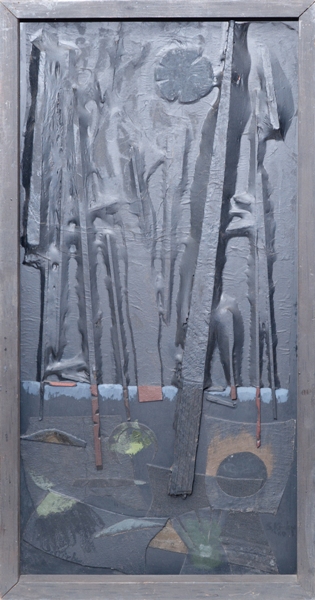 Item: Untitled 1960 Constructage
Designer/Maker: Sheldon Kirby (1924-1990) was born in Jacksonville, Florida. He grew up in the Los Angeles area, where his teachers included Henry McFee and Millard Sheets. Between earning a BA at Pomona College and an MFA at the Claremont Graduate School in 1954, Kirby painted and lectured in Peru on a U.S. State Department Fellowship. He started teaching in the San Diego City Schools in 1955, but was soon also teaching at the Art Center La Jolla, where he solidified his presence with a one-person show in 1957. In the late 1950s he established a reputation for tough, expressionistic painting.
Kirby's forceful paintings were balanced by a group of darkly elegant works of media exploration he called constructages (construction+assemblage); mainly black-on-black reliefs that developed after he spent time in Spain and Turkey from 1959 – 1960. These became the focus of shows at the Art Center and the Sander Gallery.
After his time abroad, Kirby returned to the Art Center's newly established School and joined the faculty until it closed in 1964. After a stint teaching at California Western University, he opened his own school for a while and later taught at Southwestern College from 1967 to 1969. His work won praise from local critics Armin Kietzmann and Marilyn Hagberg and was part of a 1965 two-person show with Fred Holle at the Jefferson Gallery in La Jolla.
Donald Brewer arranged in 1968 for a major retrospective of Kirby's work at the La Jolla Museum (the former Art Center) that prominently featured his constructages as well as painting and sculpture, saying: "Of any San Diego painter, (Kirby) seems to know exactly what he wants to achieve and how to get there. He has at his command a tremendous ability and technical capacity." In San Diego Magazine, John Baldessari is further quoted as saying that: "Sheldon Kirby emanates a tough-minded certainty about painting and consequently about life in general. His outlook seems to be this: no compromise. Perhaps this manner is the force that gives his paintings such an authoritative and knowledgeable look. I'm certain that this inner-directed attitude has good effect. I think it's contagious."
Description: An untitled Sheldon Kirby mixed media constructage from 1960 divided into two sections, the upper part being covered by a taught, dark membrane of tissue in contrast to the more colorful and forthright lower section. In the artist's original frame.
Dimensions: 25″ X 13″ X 2″
Condition: Very good with some minor tears/gaps in the brittle tissue-covered areas
Price: $1000
Email for more information regarding this item: info@ObjectsUSA.com