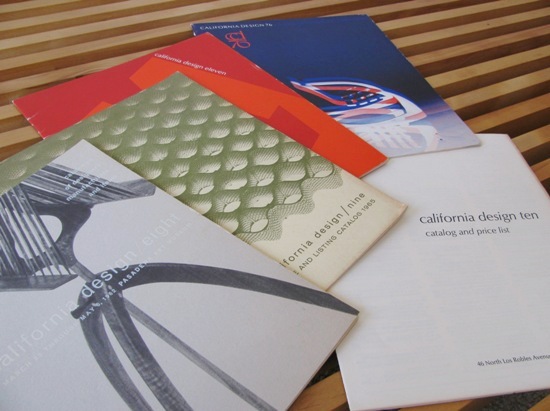 Item: Set of 5 California Design Price Lists
Designer/Maker:PasadenaArt Museum/California Design Publications
Description: All-original set of five staple-bound price lists for the California Design exhibition series held at the Pasadena Art Museum and the Pacific Design Center. Complete listing of designers, manufacturers and prices for all items included in California Design 8 (1962), California Design 9 (1965), California Design 10 (1968), California Design 11 (1971) and California Design '76 (1976). These are not the hard-bound, illustrated exhibition catalogues, but the separately published price list and checklist for each exhibition. Each is 16 pages as published, with no illustrations. Scarce.
Dimensions: Each approximately 9-3/4″ x 8-1/2″
Condition: Very Good with toning along edges on the covers of CD 9 and CD 10. CD 8, CD 11 and CD '76 are in near perfect shape.
Price: SOLD
Email for more information regarding this item: info@ObjectsUSA.com