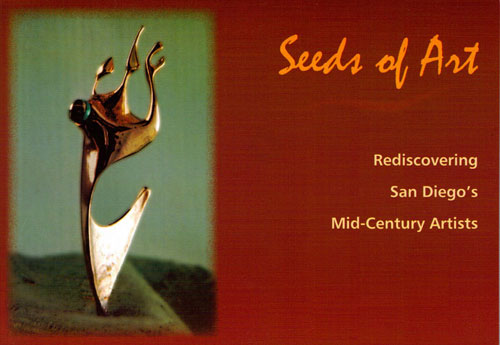 Item: Seeds of Art: Rediscovering San Diego's Mid-Century Artists
Author: The Hubbell Press, Julian, CA.
Description: For the first time, profiles of Barbara Chapman, Wayne Chapman, Wenetta Childs, James Hubbell, Malcolm Leland, Rhoda Lopez, Ruth Radakovich, Toza Radakovich and Joan Thorburn are assembled and published together in this 26 page booklet. Many of these artists and craftspeople were associated with modern architecture in San Diego and most were members of either the Allied Craftsmen, the Art Center in La Jolla or the San Diego Art Guild. An essay, "Art from the End of the Line," by Dave Hampton provides an overview of those institutions.
Dimensions: 5 1/2″ x 8″
Condition: New
Price: $15
Email for more information regarding this item: info@ObjectsUSA.com