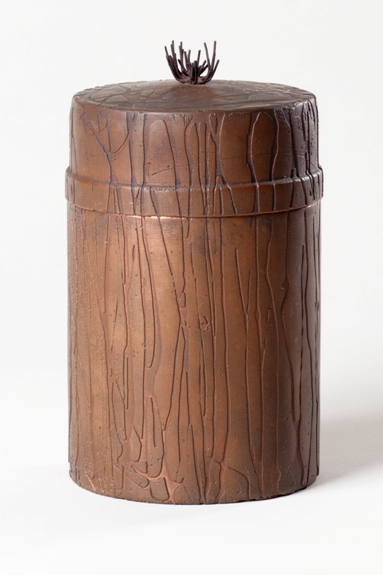 Item: Robert Trout Modernist Copper Container
Designer/Maker: One of Southern California's premiere craft artists, Robert Trout taught at Long Beach State and was a member of the unusually rich craft scene associated with the school, as well the Southern California Designer Craftsmen and the AMerican Craftsmen's Council. Examples of his woodworking, jewelry and furniture were included in almost every California Design exhibition during the 1960s and 1970s as well as numerous national craft exhibitions.
Description: Lidded copper container by California designer craftsman Robert Trout. Acquired directly from the artist, this unsigned container is imaginatively conceived and executed. It's intricately textured surface was created with electroplating.
Dimensions: 3.75″ diam. X 6.5″ high
Condition: Excellent
Price: SOLD
Email for more information regarding this item: info@ObjectsUSA.com