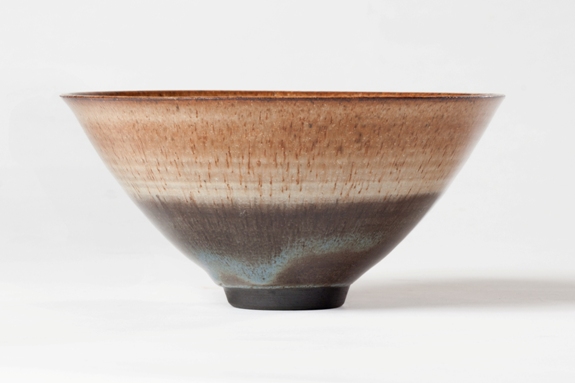 Item: Richard Petterson Bowl
Designer/Maker: Richard B. Petterson (1910-1996) was an important California ceramist, teacher and arts advocate. According to a biography from The Claremont Museum of Art exhibition, First Generation, Richard Petterson was born to an engineer father and a mother who collected Chinese ceramics. It was an interest in his mother's collection that led to Petterson's extensive knowledge of the field. He attended Pei Yang University in China and later came to the United States where he enrolled at UCLA to study design and crafts. He received a teaching credential there in 1938, and then studied at the University of Chicago, where after teaching ceramics at Pasadena City College, he directed a summer arts and crafts program from 1941-46.
In 1947 Millard Sheets saw Petterson's ceramics at the Pasadena Art Museum and invited him to join the faculty at Scripps College and the Claremont Graduate School. During his 38 years at Scripps, Petterson was noted for his innovations in ceramics and his influence on such students as Harrison McIntosh and Rupert Deese. He also served for 30 years as co-director of exhibitions at the Los Angeles County Fair. In 1957 Petterson accepted a 3-year appointment by the U.S. State Department to director a program in the arts in Taiwan. In 1960 he returned to Scripps as Director of Lang Gallery. He is also credited with establishing the Scripps Ceramic Annual, the oldest such exhibition in the country, now in its 64th year. He helped to found the Petterson Museum of Intercultural Art at Pilgrim Place in Claremont, and in 2011 his work was featured in Getty initiated Pacific Standard Time exhibitions at the American Museum of Ceramic Art and The Huntington Library.
Description: Light and delicate ceramic bowl. Signed R. B. Petterson.
Dimensions: 5-3/4″ diam. X 2-3/4″ high
Condition: Excellent
Price: SOLD
Email for more information regarding this item: info@ObjectsUSA.com