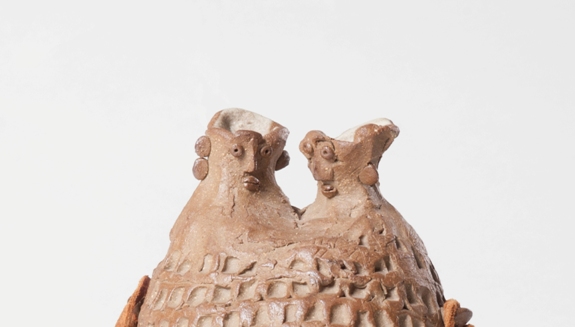 Item: Two-Headed People Pot
Designer/Maker: Maurice Grossman – A nationally known and widely exhibited Arizona potter, he studied at Wayne State University, Ohio State University, Alfred University and the Society of Arts and Crafts, Detroit. He taught at the University of Arizona in Tucson for over 30 years and was a founding member of the Arizona Designer Craftsmen. Maurice Grossman received numerous grants and awards and some selected exhibitions include:
Ceramic Nationals, Everson Museum, N.Y.
Fiber, Clay, Metal, St. Paul, MN.
Museum of Contemporary Crafts, N.Y.
Scripps College, Claremont, CA.
Krannert Museum
Century 21 Center, Seattle, WA.
Denver Museum
Smithsonian Institution, Traveling Exhibition
Arizona Designer Craftsmen Exhibitions 1958-2005
Description: One of Maurice Grossman's many variations on a form he liked to call People Pots. This wonderfully squat, two-headed vase/pot/vessel dates from the early 1960s and reflects the artist's lively good humor. Original leather strap and label – Maurice K. Grossman Designer-Craftsman Tucson, Arizona – intact. Signed.
Dimensions: 5-1/8″ X 5-1/8″ X 6-3/4″ high
Condition: Excellent
Price: SOLD
Email for more information regarding this item: info@ObjectsUSA.com