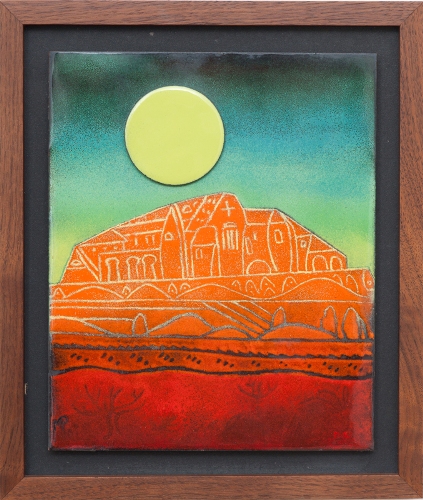 Item: "Ancient City"
Designer/Maker: Margaret Price – The first president of San Diego's Allied Craftsmen, Price trained as a painter in Los Angeles before studying with Ilse Ruocco at San Diego State. After receiving a BA in art education in 1942, Price engaged in a vigorous teaching career that included the San Diego public schools, the San Diego School of Arts and Crafts in La Jolla, the Coronado School of the Arts and classes for the Fine Arts Gallery. Price wrote publicity and produced educational television programs for KFMB in the early 1950s. She exhibited pottery with the Allied Craftsmen until enameling captured her interest, and by 1963 she was referring to herself solely as an enamelist.
Description: Enamel on copper panel signed and dated 1976 on the back and initialed on the front. Various labels on the back. Exhibited in the 1976 Allied Craftsmen annual exhibition at the Fine Arts Gallery (now SDMA).
Dimensions: 10-1/8″ x 8-1/2″
Condition: Excellent
Price: $500
Email for more information regarding this item: info@objectsusa.com