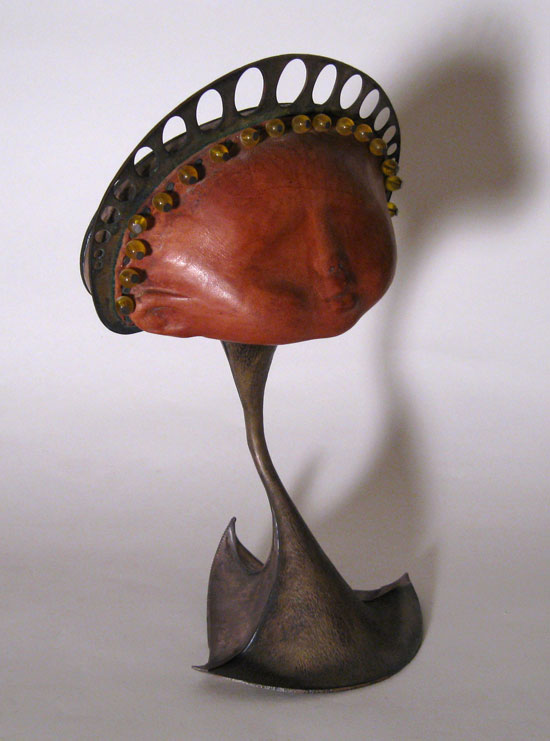 Item: Sculpture/Mirror
Designer/Maker: Marcia Lewis -An acclaimed metalsmith and educator whose work is in the collections of: The Museum of Contemporary Crafts, New York; The Oakland Museum of Art; The National Ornamental Metal Museum, Memphis; National Museum of American Art, Washington D.C.; and the Carnegie Museum of Art, Pittsburgh, PA. She has been the recipient of several awards and grants and her work has been published in numerous books and periodicals over the last 35 years.
Study:
B.A., San Diego State University, 1969
M.F.A., Long Beach State University, 1971
Apprentice Goldsmith in Zurich, Switzerland, 1971
Assistant to London Silversmith Tony Laws, 1972
George C. Marshall Memorial Fellowship to Denmark, 1973
Teaching:
University of Wisconsin, Whitewater, WI. 1973-75
San Jose State University, CA. 1976
Cabrillo College, Aptos, CA. 1977, 2006
Haystack School of Crafts, Maine. 1977, 81, 95
Arrowmont School of Crafts, TN. 1999
Penland School of Crafts, N.C. 1974, 89, 95
Long Beach City College 1978 – 2003 (Professor Emeritus)
Selected Exhibitions:
"A Comment on Contemporary Crafts" University of Wisconsin, Milwaukee, 1973 Contemporary Metals – the Yaw Gallery, Birmingham, MI. 1973 Invitational Jewelry & Metalsmithing Exhibition, Anderson Gallery, Vira Commonwealth University American Metals – Virginia Commonwealth University, 1974 "Furs & Feathers" Museum of Contemporary Crafts, New York, 1974 American Metalsmiths – DeCordova Museum, Lincoln, Mass. 1974 "Homage to the Bag" Museum of Contemporary Crafts, New York, 1974 "Survey" Cranbrook Academy of Art, MI. 1974 Goldsmiths '74 – Renwick Gallery, Smithsonian Institution, Washington D.C. "Wisconsin Directions" Milwaukee Art Center, 1975 One Person Exhibition, Elements Gallery, Greenwich, CT. 1975 Metal Invitational Exhibition – Humboldt State University, CA. 1975 "Beyond the Body Terrain" Mono Gallery, Chicago, Ill. 1976 Metal Invitational – Montana State University, Boseman, MT. 1976 California Design '76 – Pacific Design Center, Los Angeles, CA. 1976 Palomar College Invitational, San Marcos, CA. 1977 One Person Exhibition – Craft & Folk Art Museum, Los Angeles, CA. 1977 One Person Exhibition – Prarie House Gallery, Salem, N.C. 1977 "Personal Adornment" Bodycraft Gallery, Salem, N.C. 1977 Metal Invitational – Grossmont College, San Diego, CA. 1978 "Contemporary Jewelry With Leather" College of Marin, CA. 1978 "California Jewelry/Metalsmithing" Fresno State University, Fresno, CA. 1978 Society of North American Goldsmiths European Exhibition- Germany; Finland; England. 1979 "Clay, Fiber, Metal" Southeastern Massachusetts University. 1979 "Platinum Plus" San Diego State University. 1979 "Animal Imagery" Renwick Gallery, Washington D.C. 1980 "Art as Body Adornment" University of Delaware. 1980 "The State of Metal in the U.S." Visual Arts Center, Alaska. 1980 Metal Invitational, Cypress College, CA. 1980 "20 Years of Metal at San Diego State" San Diego, CA. 1980 Metalsmiths '81 – University of Kansas "California Metalsmiths" Monterey Museum. 1983
Description: Remarkable object made of silver, brass, leather, mirror and beads. Created in 1973 in Denmark, during a particularly liberated and expressive period for the artist, this sculptural mirror design is marked by the artist's cipher with the addition of the Danish flag to indicate its origin.
Dimensions: 10" tall, 6" wide, 4.5" deep
Condition: Excellent with patina.
Price: SOLD
Email for more information regarding this item: info@ObjectsUSA.com