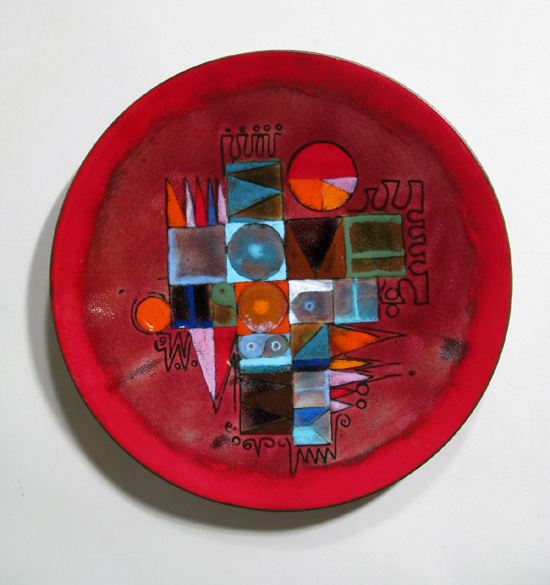 Item: Enamel Plate "Love Trust Wisdom Unity"
Designer/Maker: Kay Whitcomb – Perhaps the most unique San Diego enamellist (compared with the Woolleys, Barney Reid, Phyllis Wallen, James Parker and Margaret Price), she achieved national recognition and accolades for her work during the 1950s, 60s and 70s. Her work often featured fanciful figurative elements, strong geometric structure and words, phrases and quotations. Her unique aesthetic, combined with many innovative techniques like her chemical crust put her in a class by herself. She studied at RISD and Cambridge School of Art, apprenticed with Doris Hall in 1946, and began teaching at the Art Center in La Jolla in 1956. The first enamel teacher in San Diego, she remained in La Jolla until 1990 when she returned to Massachusetts. Whitcomb was a board member of the Southern California Designer-Craftsmen and the San Diego Art Guild (president 1968-69) and also a member of the Allied Craftsmen of San Diego. She was a founder of the Enamel Guild West and made many trips to Europe where she was guest enameler at Gustavberg, Sweden in 1969 and Crahait, Belgium during the early 70s. These industrial residencies allowed her to develop singular methods for architectural enamels on steel which required only one firing.
Description: A scarce, glowing red plate from Whitcomb's word series that incorporates "Love," "Trust," "Wisdom," and "Unity" into the design. Brilliant colors and composition. Signed and dated: 1976.
Dimensions: 8″ Diameter
Condition: Very good
Price: SOLD
Email for more information regarding this item: info@ObjectsUSA.com