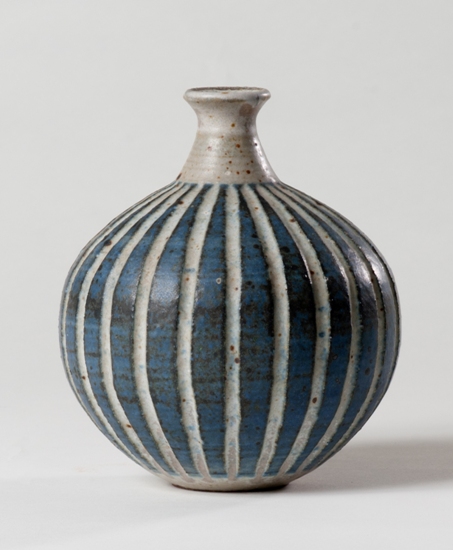 Item: John Novy Ceramic Bottle
Designer/Maker: John W. Novy – A third-generation master potter of Austrian descent who lived in San Diego during the late 1960s and early 1970s, John Novy was an active member of the San Diego Potters Guild and also the Allied Craftsmen of San Diego. His work focused on functional stoneware, perfectly proportioned with simple controlled decoration and high fire glazes, and was the subject of two feature articles in the March 1971 issue of Ceramics Monthly magazine.
Description: Perfectly proportioned stoneware bottle or vase in rich blue and grey glazes circa early 1970s. Signed John W. Novy.
Dimensions: 4″ diam. X 5″ high
Condition: Excellent
Price: SOLD
Email for more information regarding this item: info@ObjectsUSA.com