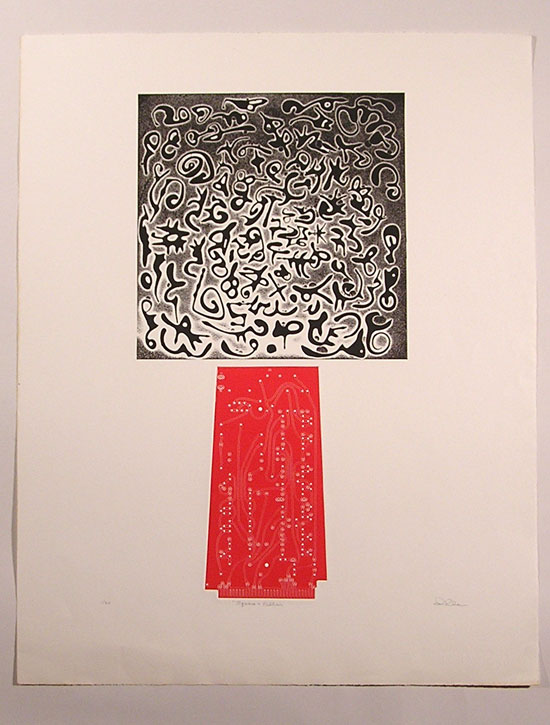 Item: "Square and Pillar"
Artist/Designer: John Ihle (b. 1925, Chicago, Illinois)
After his discharge from the U.S. Army in 1946, Ihle attended Wesleyan University until 1950 where he received his BFA. He took up his graduate studies at Bradley University as a graduate assistant to Ernest Freed, and received his MA in 1951. In 1952, Ihle moved to California and in the fall of 1955 received an appointment as instructor in the art department of San Francisco State College where he taught for many years. Through his efforts, the University maintained a fully equipped graphic workshop and program of instruction.
Ihle was also active in the California Society of Etchers and has served on the Artist's Council of the San Francisco Art Institute. His workshop and studio was located in Mill Valley, California. Ihle's work has been shown in over eighty-five national juried and invitational exhibitions from which he has received a score of awards. His work was included in the Print Council of America's American Prints Today – 1959, as well as the 23rd, 24th, 27th and 30th International Exhibitions in Seattle, and in 1961 three prints were shown in the 2nd International Triennial of Color Graphics, Grenchen, Switzerland. Also in 1961, he completed his third commission for the International Graphic Arts Society.
The following institutions have acquired Ihle's work for their permanent collections: Library of Congress, New York Public Library, Brooklyn Museum, Philadelphia Print Club, Society of Washington Printmakers, Oakland Public Library, Achenbach Foundation for Graphic Arts, National Gallery in Washington, Walker Art Museum in Minneapolis, and the San Francisco Museum of Art. (Source: Comara Gallery, Los Angeles, artist bio. ca. 1965)
Description: Color intaglio etching on copper and plastic plates, 1966. Signed, titled and numbered (1/20) in pencil by the artist. An example of this image, from the artist's edition, was included in an exhibition of 20 color and embossed intaglio prints held in the print gallery of the San Francisco Museum of Art, Nov. 8 – Dec. 11, 1966. This particular print is old stock/inventory from Orr's Gallery in San Diego; it has never been framed and has been in storage for the last 30 years.
Dimensions: 10 1/2" X 20" Paper Size: 20 1/2" X 26".
Condition: Excellent
Price: SOLD
Email for more information regarding this item: info@ObjectsUSA.com