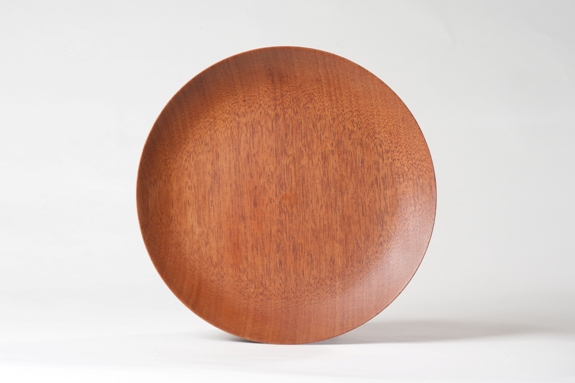 Item: John Dirks Wood Tray
Designer/Maker: John H. Dirks, who moved to San Diego in 1921, was one of the city's most prominent midcentury modernists. A woodworker, sculptor, teacher, boat builder and early hi-fi enthusiast, Dirks founded the furniture design program at San Diego State College in the late 1940s.
Dirks played football at Hoover High School in La Mesa and at San Diego State but changed majors and worked toward becoming an art teacher. Dirks received a BA in art from San Diego State and, after teaching high school ceramics and crafts and working as an instructor for Convair, he joined the Navy and eventually ran a giant hobby shop at Alameda Naval Air Station. Working with his father, John Dirks produced turned wood bowls, plates, salad servers and small sculptures as the Dirks Workshop. These were retailed through Gump's in San Francisco. Dirks identified with California bowl-turner Bob Stocksdale and James Prestini of the Institute of Design in Chicago.
In the 1950s, Dirks's furniture design classes reflected his view that "most good furniture in this country has been designed by architects." Students considered the furniture of Charles Eames, George Nelson, Eero Saarinen, George Nakashima and Hans Wegner, along with the "wonderful cabinet-maker designers of Japan." "The kind of furniture we aim to design is free of false stylistic trends and fads," Dirks said.
Dirks also designed and built custom furniture, mostly tables and music systems. He was invited in 1957 to participate in the Museum of Contemporary Crafts' first exhibition of studio furniture, Furniture by Craftsmen, a seminal show that presented a high-fidelity cabinet and speaker enclosure in walnut and linen by Dirks, with pieces by George Nakashima, Sam Maloof and others.
Description: Simple and shapely wood tray, turned on a lathe from what looks like teak. Made by John Dirks in San Diego and signed.
Dimensions: 9.75″ diam.  X  1″ high
Condition: Excellent
Price: $450
Email for more information regarding this item: info@ObjectsUSA.com