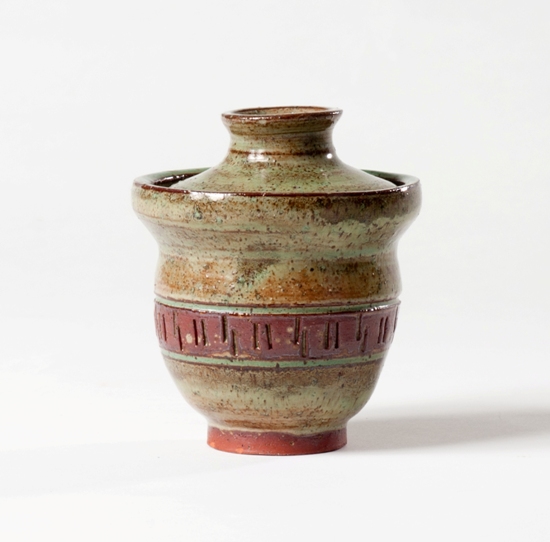 Item: Jean Balmer Lidded Jar
Designer/Maker: Jean Balmer – An Oregon-born ceramist, Jean Balmer lived in Pacific Beach with her husband Bud and had studied at the Art Institute of Buffalo and private San Diego art schools. She also studied with local potters Marg Loring and Rhoda Lopez, but developed a very personal style that encompassed everything from precise and delicate teapots and bird forms to torn, slab built sculpture and garden forms intended for outdoor use. Balmer joined the Allied Craftsmen in the early 1960s and in 1965 she exhibited teapots, a branch pot and two of her stoneware birds in California Design 9 at the Pasadena Art Museum. She was also a member of the San Diego Art Guild and the Potter's Guild, and was interested in printmaking and poetry, which she focused on after she and Bud moved in the 1970s and never got around to building another kiln. Jean Balmer wrote a eulogy published in Craft Horizons magazine following the death of her friend Ellamarie Woolley.
Description: Very early stoneware jar with lid by Jean Balmer. Marked with her full last name in movable type pressed into the reddish clay body that she frequently used.
Dimensions: 3″ diam. X 3.5″ high
Condition: Excellent
Price: SOLD
Email for more information regarding this item: info@ObjectsUSA.com