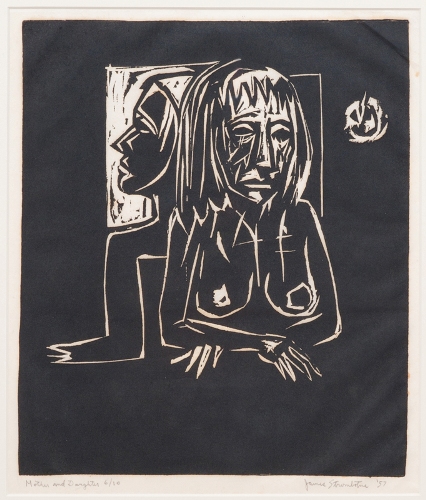 Item: "Mother and Daughter"
Designer/Maker: James S. Strombotne (born 1934) was raised and educated in Southern California, receiving his Bachelor of Arts from Pomona College in 1956 and his Master of Fine Arts from the Claremont Graduate School in 1959. He received a fellowship from Pomona College to study in Italy, and in 1962 was awarded a Guggenheim Fellowship for further study in Rome. The same year, a feature article about his work appeared in Time Magazine.
Strombotne's paintings can be found in the permanent collections of museums across the United States, including the Museum of Modern Art in New York, the Whitney Museum of American Art, The Hirshhorn Museum, the San Francisco Museum of Modern Art, the Los Angeles County Museum of Art, and the Art Institute of Chicago. He has had over seventy five one-man shows, with twelve retrospectives: four in New York City and twenty-two in Los Angeles.
Description: A scarce, early woodcut from the artist's student years in Claremont. Numbered six from the edition of ten. Signed, titled and dated 1957.
Dimensions: 16-3/8″ x 14-1'8″ framed
Condition: Good with some ripples in the paper
Price: SOLD
Email for more information regarding this item: info@objectsusa.com