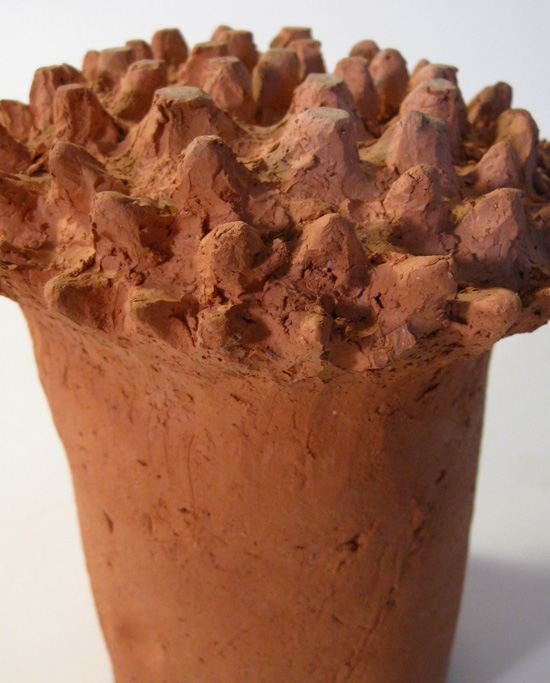 Item: Clay Sculpture/Glazed Pot
Designer/Maker: James Hubbell is well known for his sculptural home/compound in Julian and his parks, schools and other environments that bring art into the realm of everyday human experience. A reverence for nature remains the basis of James Hubbell's singular career, one that seamlessly integrates art, craft and architecture. Hubbell studied sculpture at Cranbrook Academy of Art and often worked with labor-intensive, ancient techniques like wrought iron and stained glass in a contemporary architectural context.
During the 1960s and 70s Hubbell's work was included in the prestigious series of California Design exhibitions at the Pasadena Art Museum and the Arts of Southern California series at the Long Beach Museum of Art, as well as at the Museum of Contemporary Crafts in New York. His forged iron work was featured in Craft Horizons magazine in the 1970 article "The Contemporary Blacksmith." James Hubbell was also one of the artists profiled in the final California Design publication from 1977, Craftsman Lifestyle: The Gentle Revolution.
Description: "Two in one" ceramic sculpture with hand built organic nodules and glazed interior. Made by James Hubbell c. late 1950s with clay from Pottery Canyon in La Jolla. Other examples of Hubbell's works in clay from this period were included in the 1960 Arts of Southern California VI—Ceramics exhibition at the Long Beach Museum of Art and are illustrated in the accompanying catalog.
Dimensions: 5.75 " diam. x 6.75″ high
Condition: Very good
Price: SOLD
Email for more information regarding this item: info@ObjectsUSA.com