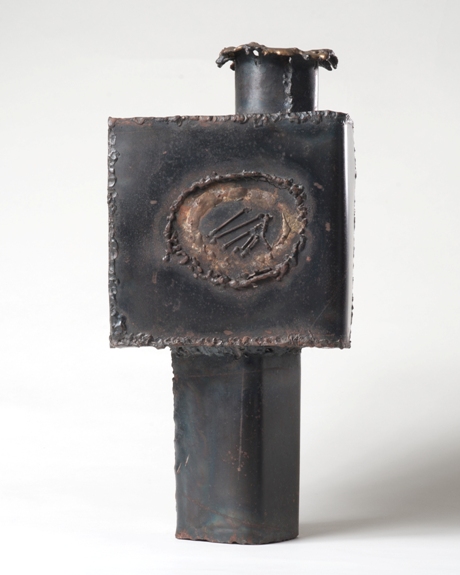 Item: George McCullough Welded Steel Pot
Designer/Maker: George McCullough – Trained in Pennsylvania and Ohio before he and his wife Joyce settled in Tucson, Arizona, where they both were very active in the Tucson Crafts Guild and the Arizona Designer Craftsmen. George McCullough exhibited work in a variety of media and created three dimensional forms in metal and clay.
Description: This welded and brazed steel pot combines his interest in metals with the vessel form frequently associated with clay. Seams and other evidence of fabrication are explicit decorative elements, at times highlighted with puddled brass. Contrasting shapes and volumes also make this unsigned pot, which was made in Tucson, superb.
Dimensions: 7.25″ X 7.25″ X 15.25″ high
Condition: Very good all original condition
Price: $700
Email for more information regarding this item: info@ObjectsUSA.com