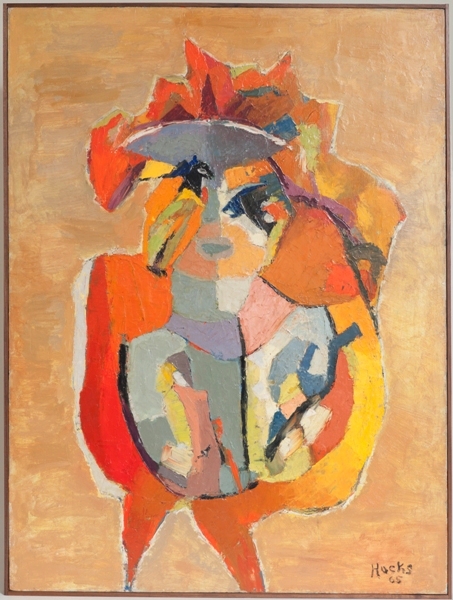 Item: The Secret of Mdme X
Designer/Maker: Fred Hocks (1886-1981)
No painter embodies San Diego's early avant-garde more than Fred
(Ferdinand) Hocks, a German-born painter who began visiting San Diego in the
late 1920s after studies at the California School of Fine Art in San Francisco
and the Art Students League in New York. Fellow painter Dan Dickey
credited Hocks in 1947 with "opening up pathways for future, more
enlightened generations (of artists)," and predicted that Fred Hocks would be
"esteemed a master."
During the post-war years Hocks was assistant director of the San Diego
School of Arts and Crafts, a private art school in La Jolla, and was
instrumental in keeping affordable artist's studios in Spanish Village.
Along with modern architect Lloyd Ruocco, Fred Hocks co-founded the dynamic Allied Artists Council with Belle Baranceanu, Everett Gee Jackson, Dan Dickey and John Olsen.
The well-travelled Hocks exhibited in San Francisco, Oakland, Los Angeles,
Long Beach, Pasadena, Paris, Mallorca and Guadalajara, had several
one-person shows at the Art Center La Jolla/La Jolla Museum of Art and at the Fine Arts Gallery (SDMA). The San Diego Museum of Art held a major retrospective of his painting in 1976, just a few years before his death. He brought a continental element to the local art scene and is described in Bruce Kamerling's 100 Years of Art in San Diego as "one of the most adventurous local artists…an intelligent and articulate defender of modern tendencies in art." Local arts and architecture writer James Britton called Fred Hocks "the dean of the San Diego moderns."
Description: Oil on canvas. A lively example of Fred Hocks' distinctive biomorphic abstraction, one of his favorite modes of painting. Vivid colors applied with a palette knife. The painting is signed on the front and back, dated 1965. Original title was later revised by Fred Hocks to: The Dilemma of Mdme X.
Dimensions: 30″ x 40″
Condition: Very Good
Price: SOLD
Email for more information regarding this item: info@ObjectsUSA.com