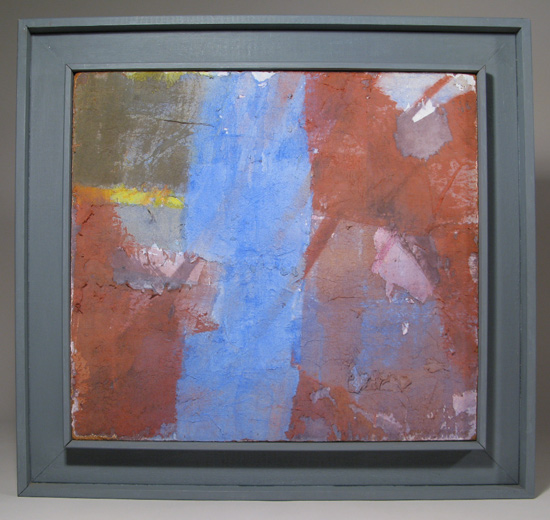 Item: Dark Edge
Artist: Ethel Greene (1912-1999) – One of San Diego's most significant modern painters, Ethel Greene was an extraordinary artist known for her surrealist pictures as well as images abstracted from nature. She exhibited the latter frequently during the early 1960s around Southern California. Ethel Greene remains a favorite painter for local enthusiasts, with what's been called "cult-like popularity."
Greene attended Boston University School of Art, The Boston Museum School and was graduated from the Massachusetts School of Art. She was one of the first artists chosen to join the Jefferson Gallery's "stable" when they opened in La Jolla in 1963. Greene also had a two person show at the Fine Arts Gallery (SDMA) with Fred Holle, another Jefferson Gallery exhibitor, in 1961.
Her work in the early 1960s reflected a "recent turn from the meticulous and descriptive detail to large and broad planes" according to Dr. Armin Kietzmann, The San Diego Union's art writer. "The present exhibits have developed toward substantial simplicity… statements in a few broad planes… to open spaces and intuitive rhythms."
Selected Exhibitions: San Diego Art Guild Annuals, 1949-1963 Artists of L.A. & Vicinity, L.A. County Museum, 1950, 1952, 1955 Art Center in La Jolla, one-person show, 1956 CA Watercolor Society Annuals, 1958, 1960, 1963 SD Fine Arts Gallery, two-person show, 1961 SD County Fair, 1963, 1st prize Cal Western University Invitational, 1963, purchase award Southwestern College, Chula Vista, 1962 Arts of Southern California XIII, Long Beach Museum of Art, 1963 Jefferson Gallery, one-person shows, 1963, 1965
Description: Utilizing watercolor and tissue collage on board, this composition was exhibited at the Jefferson Gallery in La Jolla and retains their stamps on the reverse along with the original price, title and the artist's name. Ethel Greene exhibited a different watercolor and collage painting, Ruins, with the San Diego Art Guild in 1962 that had the same price. Dark Edge, although not dated, is likely from that same year. Faint signature at lower right.
Dimensions: 18 x 20″ (frame 24 x 25 3/4″)
Condition: Good with a recent frame.
Price: SOLD
Email for more information regarding this item: info@ObjectsUSA.com