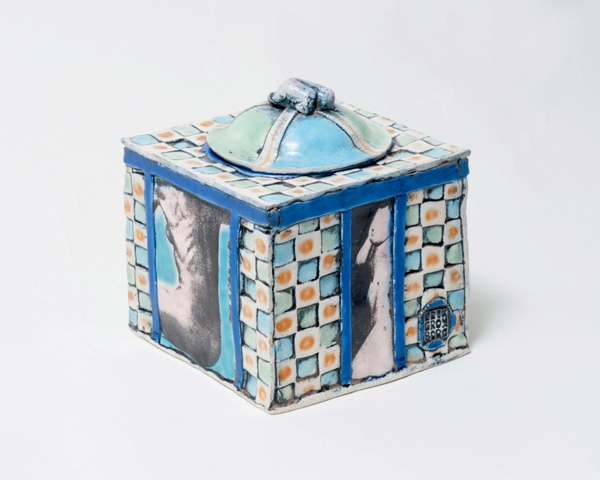 Item: Ceramic Box
Designer/Maker: Erik Gronborg – The Danish artist came to the states in 1959 and to UC Berkeley in 1960. There, he was instrumental in developing the artist-foundry movement begun at Peter Voulkos and Donald Haskin's 'Garbanzo Works,' described by Joe Pugliese in 1963 as " the most cooperative, most confused, most productive, and most slap stick do it yourself foundry operation ever on record."
Gronborg's style was utterly unique, he worked in both wood and cast metals and received the prestigious City of Paris Award at the 1963 Paris Biennale. As part of the landmark Onze Sculpteurs Americains exhibit, comprised of artists involved with the Berkeley art department, who received a special group prize, Gronborg was singled out for the Paris Biennale's highest honor and had a solo show at the Musee d'Art Moderne in Paris.
This early stage in Gronborg's career is well documented in Artforum Magazine and the Creative Casting exhibit at the Museum of Contemporary Crafts in NYC (Gronborg and Harold Paris are shown working in the Berkeley foundry in the catalog), but it was only the beginning. He went on to national recognition as a ceramist often associated with the funk movement, and was included in major exhibitions like Objects:USA in 1969.  After settling in San Diego in the mid 1970s, he began to make studio furniture that also won national acclaim and was featured in Dona Meilach's important survey, Woodworking: the New Wave. Always an innovative and singular artist, Gronborg was central to some of the most significant American art and craft developments of the mid 20th century.
Description: Terrific lidded box in low-fire white clay body by Erik Gronborg, c. early 1980s. Made in San Diego, while the artist was teaching at Mira Costa College. Nudes in photographic decal panels are positioned within a checkerboard pattern beneath the dome-shaped lid. Conveniently, two fingers are already in place to make the top easier to grasp and open. For more of Gronborg's box forms, see our metal category.
Dimensions: 6-3/4″ x 6-1/2″ x 7″ h
Condition: Excellent
Price: SOLD
Email for more information regarding this item: info@ObjectsUSA.com