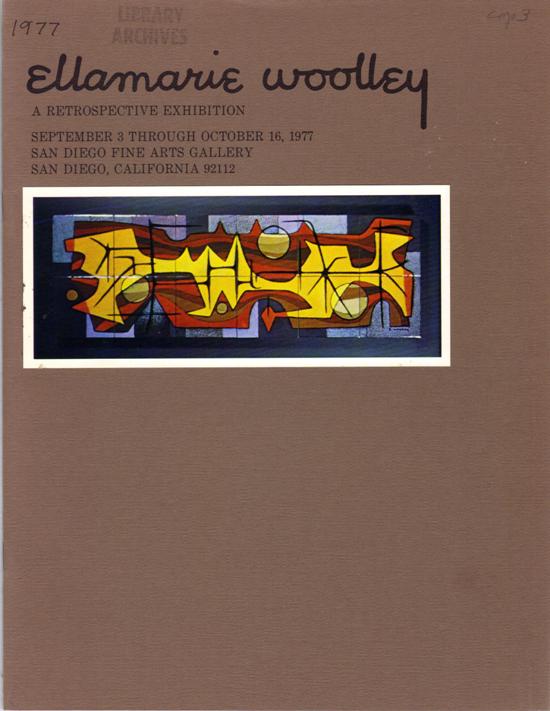 Item: Ellamarie Woolley: A Retrospective Exhibition, Exhibition Catalog – 1977
Designer/Maker: Fine Arts Gallery of San Diego (SDMA), printed by Arts & Crafts Press, San Diego. Layout and design by Barney Reid.
Description: A Retrospective Exhibition. September 3 through October 16, 1977. San Diego Fine Arts Gallery, San Diego, California – A 19 page exhibition catalog with many photos in color and black and white (two color plates tipped in). "This retrospective show, assembled through the combined efforts of her fellow artists, collectors of her work, and the staff of the Fine Arts Gallery of San Diego, brings to the public highlights of nearly thirty years of continuous outstanding achievement." This document is a lasting tribute to Ellamarie Woolley by her friends and associates with quotes by June Schwarcz, James Parker and Jean Balmer. Introduction by Henry Gardiner.
Dimensions: 8.5″ x 11″
Condition: Very good – Cover has 1977 in ink, copy 3 in pencil, and a stamp from the SDMA library.
Price: SOLD
Email for more information regarding this item: info@ObjectsUSA.com