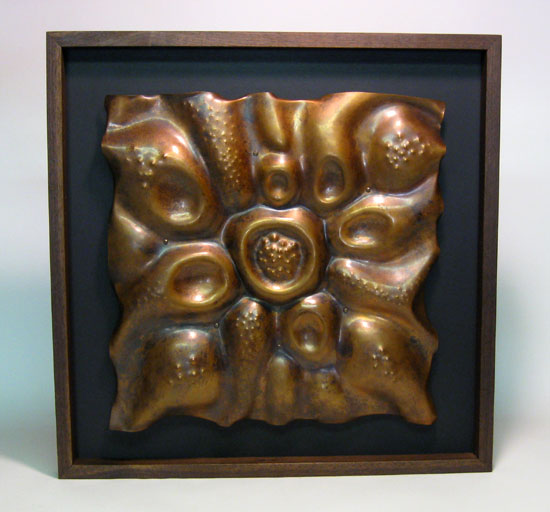 Item: Copper relief
Designer/Maker: Ellamarie and Jackson Woolley
Description: Ellamarie and Jackson Woolley worked directly with architectural firms on individually commissioned projects. Their aim is total integration of their designed and executed metal and enamel walls, panels, murals or reliefs with the architecture. These works in textured, hammered, patinated and partially enameled copper are for both interior and exterior uses.
In 1964, the Woolley's were commissioned to create Decorative Copper work for the San Diego Civic Theatre (Ruocco, Kennedy, & Rosser, A.I.A.) including Light Reflectors, Light Articulators, and two 10′ x 16′ Sculptural Reliefs. One of these murals, "Creative Sun," is pictured in the last black and white photograph.
Some years later the City of San Diego took down all of these works in an effort to remodel the Civic Theatre. Salvaged items were then sold off through the City Store about 20 years ago. It is extraordinary to find any of these pieces. This piece was saved in excellent original condition and stored for many years. Custom walnut frame and mounting.
Dimensions: Frame measures 23" x 23". Copper relief measures 17" x 17″
Condition: Excellent
Price: $1900
Email for more information regarding this item: info@ObjectsUSA.com