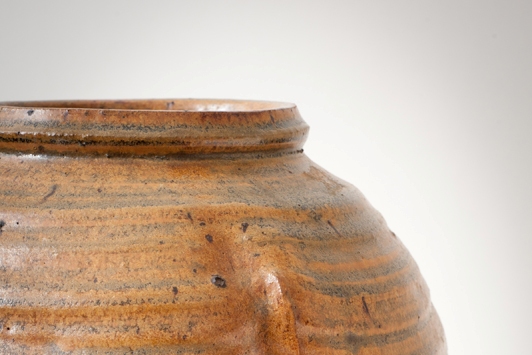 Item: Stoneware Pot
Designer/Maker: Don Schaumburg – Although Schaumburg is known as a ceramist, he spent four years in the Navy Reserve and painted extensively in Europe and the South Pacific. By 1947 he had already exhibited in San Francisco, Oakland and Laguna Beach and was teaching art at Palomar Junior College in San Diego County, where he showed with the Vista Art Guild. By the early 1950s, however, Schaumburg was working in clay and joined the Allied Craftsmen of San Diego as a potter. Even after he left the area in the early 1950s, he continued to exhibit as a member.
Don Schaumburg brought a solid California craft ethos with him when he moved to Tempe in 1954 to teach ceramics. He received his B.A. from the California College of Arts and Crafts in Oakland and an M.F.A. from the Claremont Graduate School (where he and fellow students Harrison McIntosh and Ward Youry studied with Richard Petterson under the aegis of Millard Sheets in the late 1940s).
By the time Schaumburg joined the faculty at ASU, he had been involved with several dynamic art scenes on the west coast: Marguerite Wildenhain's Pond Farm, the Claremont potters, CCAC and the Allied Craftsmen. These experiences brought a great deal to the art department at ASU, where Ben Goo and Schaumburg spearheaded a seminal crafts program. He was an obvious asset to the Arizona Designer Craftsmen and became an early member of the group.
Description: Robust and hefty stoneware pot by Don Schaumburg, signed and dated 1967.
Dimensions: 8-1/2″ x 12″ high
Condition: Very good – no chips or cracks
Price: SOLD
Email for more information regarding this item: info@objectsusa.com