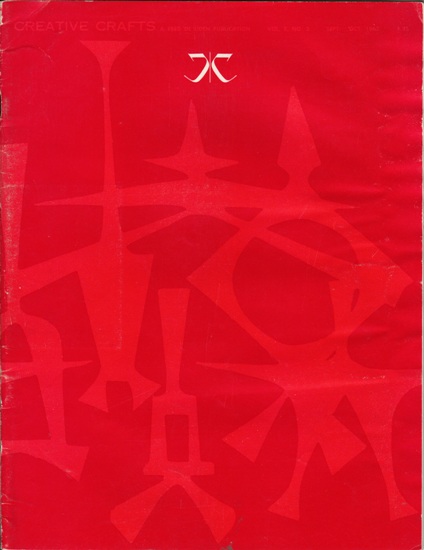 Item: Creative Crafts Magazine September – October 1962 Issue (Vol. 3, No. 3)
Designer/Maker: A Fred De Liden Publication, Joel Edwards Editor
Description: 32-page September-October 1962 "Creative Crafts" scholastically-oriented modern craft magazine edited by Los Angeles studio potter/ceramist Joel Edwards.
This vintage issue of Creative Crafts magazine includes an important 8-page feature article "The Fabric Workers of Arizona" that illustrates the work of midcentury Arizona weavers and fiber artists Virginia Tynes (Tucson), Mary Pendleton (Sedona), Elsie P. Waite (Tucson), Berta Wright (Tucson), Louise and Charles Clement (Tucson), Harriet Wilson (Tucson), Nik Krevitsky (Tucson), Ruth Brown (Tucson), James V. Parker (Phoenix). This detailed article is a major resource that includes significant members of the Arizona Designer Craftsmen and the Tucson Craft Guild.
Other artists, designers and craftspeople mentioned in the issue include: Claude Conover, Howard Kottler, Charles Lakofsky, Toshiko Takaezu, Charles Bartley Jeffrey, Frederick A. Miller, John Paul Miller, Robert Fritz, Joseph Pugliese, Kenneth Dierck.
Dimensions: 8.5″ X 11″
Condition: Very good
Price: SOLD
Email for more information regarding this item: info@ObjectsUSA.com