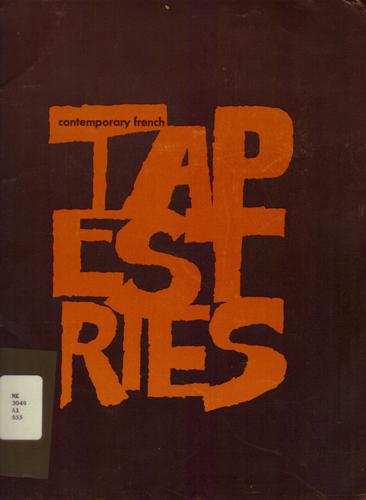 Item: An Exhibition of Contemporary French Tapestries, Charles E. Slatkin Galleries
Designer/Maker: Charles E. Slatkin Galleries. Introduction by Mildred Constantine and a note on tapestries and rug hangings by Albert Chatelet
Description: Profusely illustrated in color. Catalog of the 1965 exhibition of tapestries designed by Hans Arp, Alexander Calder, Jean Cocteau, Andre Derrain, Max Ernst, Paul Klee, Henri Laurens, Fernand Leger, Henri Matisse, Joan Miro and Pablo Picasso. This traveling exhibition made 20 stops at major museums nationwide, including the San Diego Fine Arts Gallery from June2 – July4, 1967. 40 pages.
Dimensions: 12″ x 9″
Condition: Good with tape affixed library stamp, some wear to cover and corners bumped.
Price: SOLD
Email for more information regarding this item: info@objectsusa.com