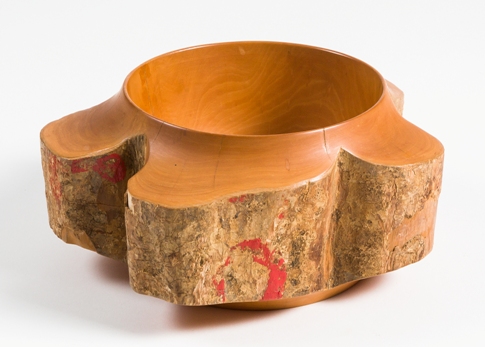 Item: Boxwood Bowl
Designer/Maker: Chuck Masters – Sculptor, craftsman and furniture designer, Chuck Masters received a BA from CSU Northridge and an MFA at the University of Washington before moving to San Diego in 1976. He taught a variety of crafts classes for two years at San Diego State, but his special interest was woodworking. A respected woodworker and member of the Allied Craftsmen of San Diego, Master's work was featured in California Design '76 and published in Fine Woodworking Design Book II, Woodworking: the New Wave, and in Craft Horizons magazine.
Description: Made in 1974, this bowl was turned from the endgrain of a Boxwood log. Masters left the exterior bark of the log mostly intact to create an appealing contrast. Signed and dated.
Dimensions: 8.5 in. diam. x 4 in. high
Condition: Very good – rough quality and naturally occurring imperfections are intact.
Price: $450
Email for more information regarding this item: info@ObjectsUSA.com