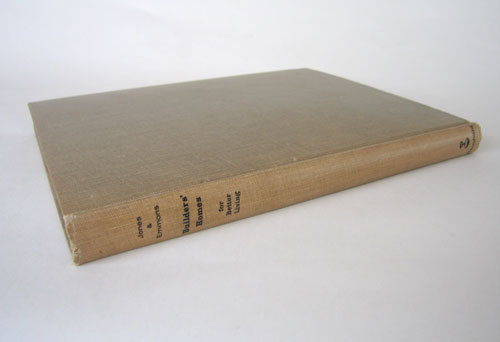 Item: Builders Homes for Better Living
Author: A. Quincy Jones & Frederick E. Emmons – Reinhold Publishing Corp. 1957
Description: The definitive book on modern 'tract' housing. This hard to find volume is packed with b&w photographs by Julius Schulman, Ernest Braun, Hedrich-Blessing and Ezra Stoller. A must for Eichler and Alexander developments, but a generally fantastic modern architecture document as well. Some of the architects featured include: Ain, Day & Johnson, R. Alexander, William Beckett, Campbell & Wong, Chris Choate, Craig Ellwood, Jones & Emmons, Pierre Koenig, John Lautner, Carl Maston, Richard Neutra, Eliot Noyes, Palmer & Krisel, Paul Rudolph, Smith & Williams, Soleri & Mills, Raphael Soriaon, Twitchell & Rudolph, Eugene Weston. 220 pages – hard back.
Dimensions: 8″x 10 1/2″
Condition: Excellent with owners ink stamp on frontspage and missing dust jacket. A tight and clean copy.
Price: SOLD
Email for more information regarding this item: info@ObjectsUSA.com