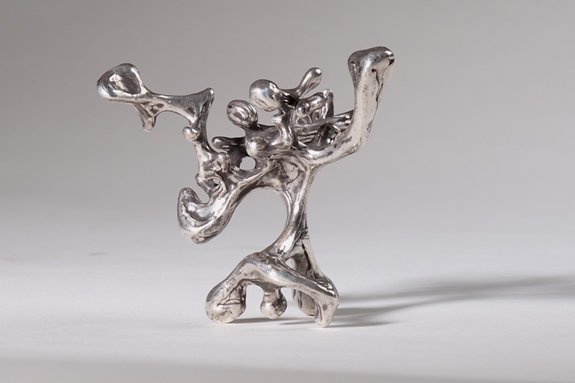 Item: Bob Winston Cast Silver Sculpture
Designer/Maker: Bob Winston (1915-2003) was an influential San Francisco Bay Area jeweler and sculptor, credited with reviving the process of lost wax, centrifugal casting in the context of mid-century American jewelry design. Born in Long Beach, California, he taught countless artists in his workshops and for 17 years at the California College of Arts and Crafts. His techniques and organic forms helped shape the look of wearable art and sculpture during the 1950s and 1960s.
According to Arizona fiber artist Nik Krevitsky, Bob Winston's lost wax process "allowed him the freedom to create organic and natural forms which, he feels, have a special warmth and appeal. His wax models are meticulously formed, and the polished or textured surface of the wax is the desired finish of what he calls 'wearable sculptured jewelry.'" In Winston's 2002 Archives of American Art interview, he said his acquaintance with Charles Loloma led to his move in 1959 to Scottsdale with his wife Gina (who also made jewelry and enamels). Winston may be the only major artist to move there specifically because of the newly-founded Arizona Designer-Craftsmen, and claims to have been essentially recruited by the group. Bob and Gina Winston were both very active ADC members for more than a decade and Bob remained in Arizona until after his wife suffered a fatal heart attack.
The Winstons' time in Scottsdale was extremely productive. Gina chaired an ADC annual craft market at the Safari Hotel, where they both gave demonstrations (something they also did at fellow ADC member Mary Pendleton's studio in Sedona), and for seven years Bob Winston taught extension courses for Arizona State. He rented a "dilapidated supermarket" on South Mill Avenue in Tempe, which was also the site of ADC membership jurying in the early 1970s. "My wife and I started teaching lost-wax casting there, and we had 35 people a night, four nights a week." They also wrote an instructional book, Cast Away, over the course of their time in Scottsdale that was published in 1971.
Description: A very fine cast silver sculpture in Winston's distinctive organic style, with his subtle ridges and folds worked in the original wax adding texture and layers of detail. Made with Winston's lost wax technique after it had been refined over time, this work was made during his time living in Scottsdale, Arizona. This unsigned piece formerly belonged to Winston's neighbor in Scottsdale, Dick Seeger. Both artists were members of the Arizona Designer Craftsmen and traded their work in the 1960s. Note the similarly organic motif used as the logo of Winston's book, Cast Away, published while he lived in Scottsdale. A truly uncommon example of pure sculpture by Bob Winston, with a vital presence.
Dimensions: 2-5/8″ X 2-1/4″ X 2-1/2″ high
Condition: Excellent
Price: SOLD
Email for more information regarding this item: info@ObjectsUSA.com