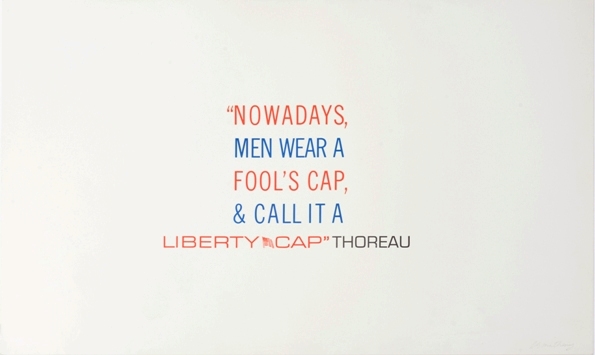 Item: Typograph
Designer/Maker: Bob Matheny (b. Santa Ana, 1929)
A sculptor, painter, graphic designer and idea artist, Bob Matheny studied under art department chair John Olsen at Long Beach State College. He initially came to San Diego to work for art director Stan Hodge at Convair Astronautics in the late 1950s, but later worked at the Navy Electronics Laboratory with his friends Jim Sundell and Russell Baldwin. He exhibited jewelry at the California State Fair in the late 1950s and showed hooked rugs as a member of the Allied Craftsmen, but had an abiding fascination with typography and small press printing.
He helped organize a regional group called the Patron's of the Private Press, who put together a show of international private press printing at what is now SDMA and exchanged hand printed cards and announcements. In the mid 1960s Matheny made a series of sculptures based on type and the alphabet – free standing letters or symbols carved in woods or painted in bright colors – and produced a series of limited edition prints, called Typographs, that was exhibited at the La Jolla Museum of Art in 1965. These involved graphically rendered phrases and quotations that appealed to Matheny composed with type and other printing ornaments and produced on a letterpress.
Concentrating on painting and sculpture, Matheny moved on to a new series of acrylic sculpture and minimalist canvasses spray painted with metallic flakes. He also combined more traditional disciplines with post-studio art forms to create important bodies of work related to aviation and to his mythical "Great State of Art."
Before starting the art department at Southwestern College in Chula Vista (he became the school's first full-time art instructor in 1961), along with early faculty members Dick Robinson and John Dewitt Clark, Matheny taught art at Newport Harbor High School and Santa Monica City College.
Matheny was instrumental in establishing the Southwestern College art gallery, and responsible for a string of robust exhibitions, a film series, art happenings and activism over the 1960s and 1970s, as well as the school's forward-thinking permanent collection of contemporary art. The remarkable impact of this out of the way community college during the 1960s still reverberates, not only for the artists, students and public who experienced it first-hand, but also for those who, in looking back, have begun to appreciate this city's midcentury arts heritage.
In February, 1994, the San Diego Union-Tribune published an article by Welton Jones about the Southwestern College art phenomenon. It quotes John Baldessari (who taught there with Matheny during the late 1960s) as saying "… in retrospect, Southwestern College was very important, even though a lot we did was just spitting in the wind. And, if you had eliminated Matheny from the picture, none of that stuff would have happened."
After retiring from teaching in 1991 Matheny has continued to baffle and provoke the local art community with a compelling stream of idiosyncrasies.
Description: Letterpress composition on thick, glossy white stock with a quotation from Henry David Thoreau's "Slavery in Massachusetts" (1854). Signed and numbered 3/10. Unframed.
From the original limited edition series of Typographs made and exhibited in 1965 at the Nexus Gallery in La Jolla, California. This summer exhibition in Laurence McGilvery's bookstore/gallery ran concurrently with Matheny's exhibition of sculpture held essentially next door at the La Jolla Museum of Art. At the time, the Nexus occupied the Wisteria Cottage, later designated a Historic Site by the City of San Diego.
Dimensions: 14.5″ x 23″
Condition: Good
Price: Hold
Email for more information regarding this item: info@ObjectsUSA.com