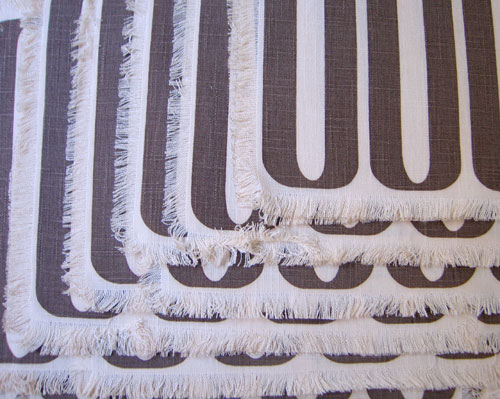 Item: Set of 6 Place Mats w/Napkins
Designer/Maker: Barney Reid – earned his masters in lithography at the State University of Iowa. Reid moved to San Diego about 1950, after teaching at ASU from 1946-49, and went into business selling screen-printed fabrics. Renowned for his enamel work, he was a consummate craftsman, and worked in metal, clay, wood, marble and other media. A member of the Allied Craftsmen and the San Diego Art Guild, Reid was employed as a graphic designer by the U. S. Navy. From the late 70's until his demise, he worked in printmaking almost exclusively.
Description: A set of six placemats with corresponding napkins, this example in brown is printed on hand cut, natural linen. It was produced during the brief period when Reid had just moved to San Diego and was enjoying success with his new screen printed fabric business (ReidArt) based in the old Convair plant on Pacific Coast Highway. About this endeavor Reid has said: "…I was pretty proud of that. We put out yardage and table linen. Our work was in all the class places – Gump's in San Francisco was a good customer, Armin Richter in La Jolla, Bullock's Wilshire, The Broadway in Honolulu. We even were in specialty shops in Florida and Cuba." Reid's business was abruptly terminated with the loss of his lease at Convair during the Korean War. This fabric came from the estate of Barney and Sue Reid and has been carefully stored, away from any light damage for more than 50 years. Each place mat has the artist's initials printed at lower right.
Dimensions: Place mat, 18 1/2 X 13" – Napkin, 15 X 13"
Condition: Excellent
Price: $300
Email for more information regarding this item: info@ObjectsUSA.com