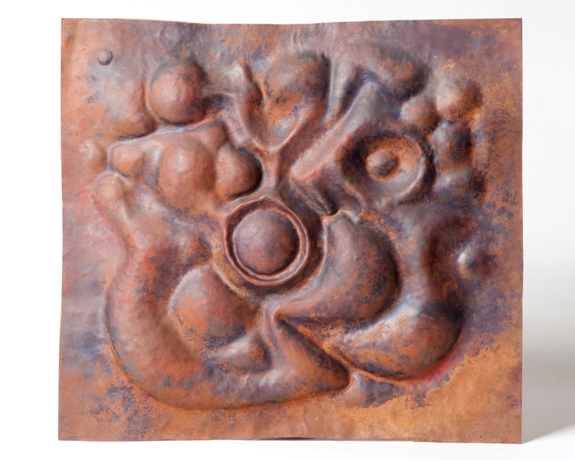 Item: Modernist Copper Repoussé Panel
Designer/Maker: Barney Reid – earned his master's in lithography at the State University of Iowa. Reid moved to San Diego about 1950 and went into business selling screen-printed fabrics. Renowned for his enamel work, he was a consummate craftsman and worked in metal, clay, wood, marble and other media. A member of the Allied Craftsmen and the San Diego Art Guild, Reid was employed as a graphic designer by the U. S. Navy. From the late 70's until his demise, he worked in printmaking almost exclusively.
Description: A rare midcentury work of unadorned copper repoussé by Barney Reid. This sheet copper panel is worked in a manner similar to that of Reid's fellow enamelists and Allied Craftsmen, Ellamarie and Jackson Woolley, and is probably a unique studio experiment. It never left Reid's studio and home in San Diego and was acquired directly from his estate.
Dimensions: 12-7/8″ X 11-3/4″ X 1-1/4″
Condition: Very good, completely original
Price: $825
Email for more information regarding this item: info@ObjectsUSA.com