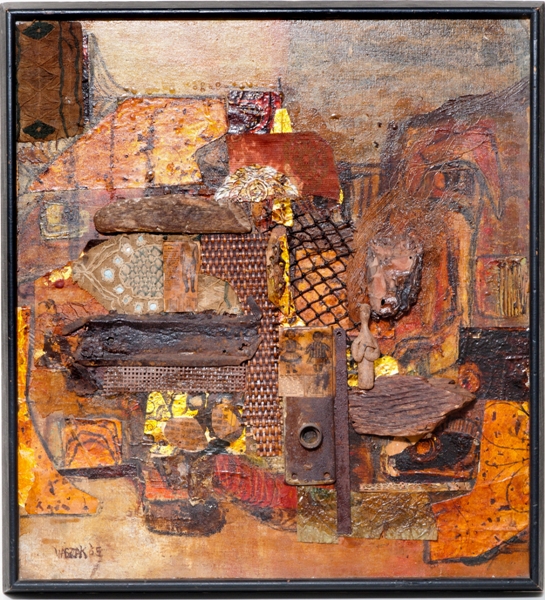 Item: Barbara Chapman 1965 Assemblage
Designer/Maker: Barbara (Waszak) Chapman – One of San Diego's premiere fiber artists, Barbara Chapman came to Chula Vista in 1949. She studied (with Ilsa Ruocco, among others) at San Diego State College, but her mentor Jane Chapman inspired her to explore self expression through fiber arts, just when that medium was gaining recognition as a contemporary art form. On weaver Eve Gulick's recommendation, Barbara joined the Allied Craftsmen in 1965, and her distinctive pillows and wall hangings became highlights of the group's exhibitions during the 1960s and early 1970s. Elements such as stones, fur, branches, leather, and antique bells or hardware were combined with stitchery in her dramatic and rugged compositions. In 1969 she married ceramist Wayne Chapman, and the couple (and their bi-annual open house) has become a kind of local crafts institution. Chapman's 40-year teaching career continues with regular workshops at the Black Sheep in Encinitas, and her work is shown at the Fiber Arts Gallery in La Jolla.
Description: An early assemblage on board combining rich layers of media and techniques in a framed composition. An glowing, somewhat more painterly work by this important fiber artist in the baroque-meets-modernist style that was characteristic of her work at the time. In the artist's original frame.
Dimensions: 21.75″ X 19.75″ X 2″ deep
Condition: Very good
Price: $595
Email for more information regarding this item: info@ObjectsUSA.com