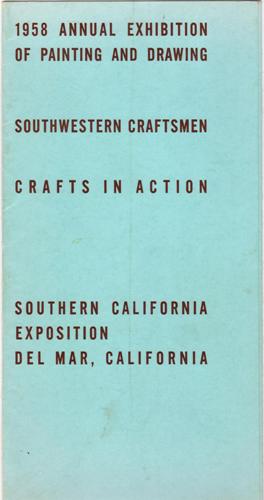 Item: 1958 Southern California Exposition at Del Mar (Del Mar Fair) – Art Exhibitions Brochure featuring Southwestern Craftsmen; Annual Exhibition of Painting and Drawing; Crafts in Action.
Designer/Maker: George Sorenson, Art Exhibition Director w/ Jean Swiggett, Martha Longenecker, et. al.
Description: Great tri-fold brochure documenting contemporary craftspeople from California, Arizona and New Mexico, including Laura Andreson, Raul Coronel, Amy Donaldson, Ben Goo, Maurice Grossman, James Hubbell, Marg Loring, Malcolm McClain, Martha Longenecker, Alice Parrott, June Schwarcz, James Sundell, Jackson Woolley and Berta Wright. Local painters listed include prize winners Fred Holle, Guy Williams, Richard Allen Morris, Herb Turner and Sheldon Kirby, among many others. Crafts In Action section lists Ethel Greene, Martha Longenecker and Jack Boyd among others.
Dimensions: 12″ x 6″
Condition: Fair – front creased, fading and stains.
Price: SOLD
Email for more information regarding this item: info@objectsusa.com